0

تومان
Flat knitting machines work with up to four needle carriers which are opposite one another like a V-shaped roof. As in circular knitting machines, the movement of the needles is controlled by cams. These cams are attached to the carriage of the flat knitting machine. The carriage performs a horizontal movement over the needle carriers.
Typical application examples are the manufacture of outerwear, such as pullovers, jackets, vests and accessories like collars, cuffs, caps and also 3D molded parts for technical applications like upholstery.
0

تومان
Manual heat press is a device for transferring and stabilizing various types of printing such as text, photos, logos and thermal effects on objects, which uses high temperature and high pressure at a certain time, permanently transfers the print to the product.
Heat presses are used for professional and perfect printing. In fact, heat presses are like large irons, with the difference that ordinary irons and laminating machines can not apply the required temperature and pressure, but this machine introduces more heat and pressure and uniformity.
As a standard for printing transfer, a temperature between 150 and 200 degrees and high pressure and uniformity are required, which can not be applied by other devices.
This device is equipped with digital control of temperature and time with ease of use and in addition to high accuracy, prevents the occurrence of errors and waste of time by the operator.
ADD TO ENQUIRY BASKET
Store: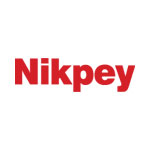 Nikpey